HiQ Border Collies
Quality Border Collies Since 1988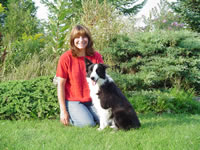 Dawn & Twizz

Hello and welcome to HiQ Border Collies' website! My name is Dawn Kadish, I am a veterinarian and have loved dogs all my life.  I  have been involved in dog training since 1984 and have been a veterinarian since 1990.  While I was a student I was involved in a program to enrich the lives of research/laboratory/teaching dogs at the University of Guelph. I fell in love with "Freckles", a Border collie mix after working with him in 1985.   He had been a research dog for more than 5 years.  When his time was up and he was due to be euthanized I was finally able to adopt him.  At that time he was 8 years old. Freckles had essentially lived in a cage for most of his life.  He had not been able to run or play, yet he had remained sweet tempered and loving.  First, Freckles had to learn how to be a dog again.  He didn't know how to run and play.  It took awhile for Freckles to realize that there was a lot more to life than the inside of a cage.  Freckles and I became a great team and we went on to compete in obedience and later we had a lot of fun in Superdogs.  

In 1988 I got my first purebred Border collie,
Tikka and the rest, as they say, is history!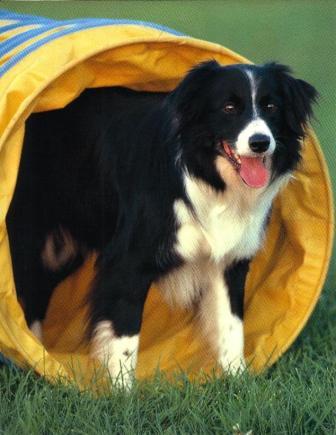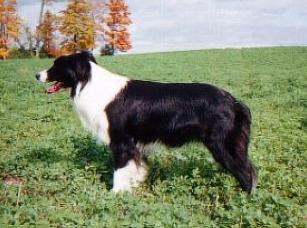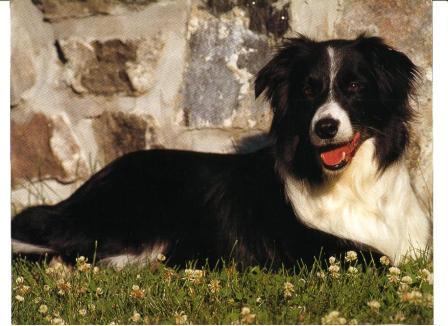 There was no end to what Tikka could do! 
She was so athletic and smart. 
She was a star in the Superdogs shows and then she went on to be a fabulous flyball dog.  
Soon I got Trekki, Tikka's full sister.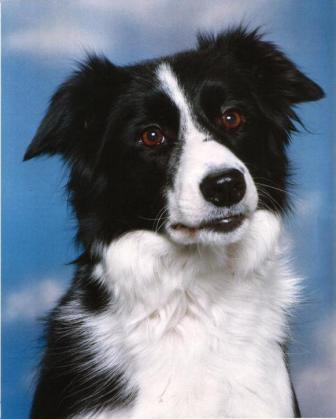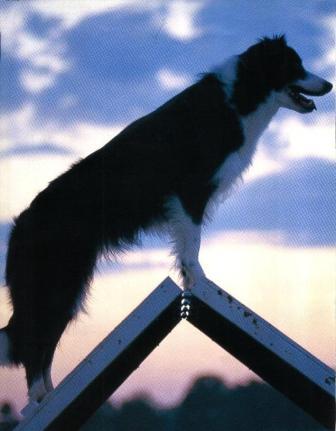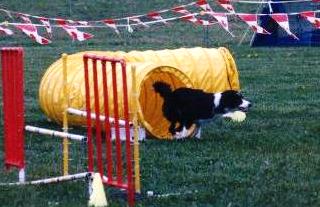 Trekki was even more talented than Tikka!  We took up tracking and started to seriously compete in agility.  
Before she was two, Trekki had earned titles in tracking, obedience, agility and flyball!!!  
Trekki also competed in the All Star games and set some records that have only been broken by her offspring!  
Trekki has been a great foundation for our breeding program and we feel very lucky to have had such an amazing dog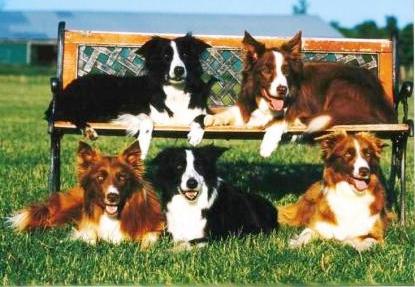 Q & Zac
Zed, Timer & Tribble

Since then we have been involved in almost every aspect of the dog world.  We have been a big part of many large fast paced performance shows, TV programs, we have written many dog magazine articles, given workshops/seminars and clinics and our dogs have been in many photo shoots and ads.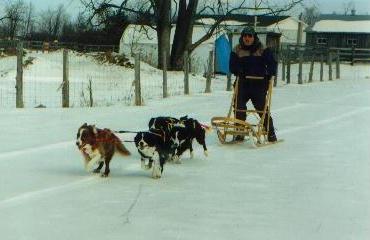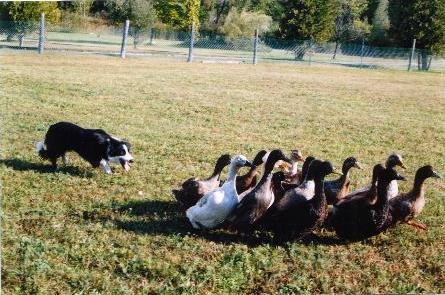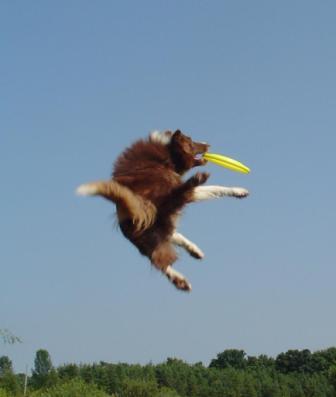 (Above)
The Team! - Zac, Trekki, Q & Timer with Howard
Timer herds the ducks
Zed gets air in Disc Dog

I met my husband, Howard, through flyball! 
He also loves Border collies and already had a handsome Border collie of his own.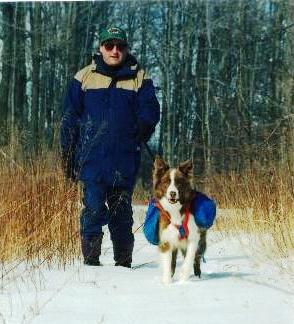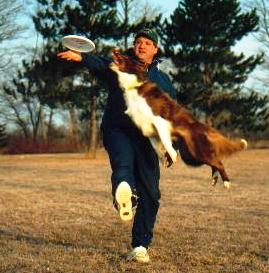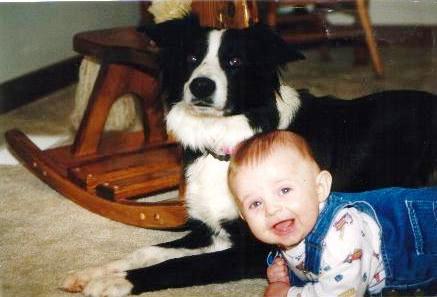 Howard & Zac          Howard & Zed          Timer & Michael

Howard went on to found the Canadian Disc Dog Association.
Our amazing dogs have adapted seamlessly from single-life
to a house full of kids and assorted other creatures! 
Our dogs are wonderful with our children
and are extremely affectionate.
Together our entire family is deeply devoted to
Border collies and all dogs.  

In 1998 we opened Dog Sports Centre, our home, and a facility completely dedicated to dogs and their owners.  
For more information please visit www.dogsportscentre.com.  

We now are lucky to live in beautiful Caledon Ontario on 42 acres, with our three sons, our terrific Border collies, several horses and ponies, and three cats.

to contact us click here

for information on puppies click here