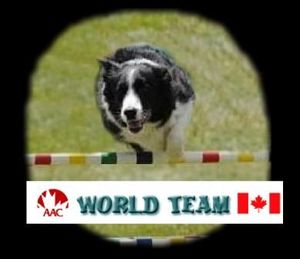 HiQ Bogey
2001 - 2009
It is so sad that Bogey, such a special dog, should suddenly leave us still in the prime of his life.  Craig and Bogey were such a terrific team.  It was only last month that Bogey was flying around the agility courses at the AAC Ontario Regional Championships finishing third overall!  Now he is gone.

We would like to thank Craig and Robin for all the love and care that Bogey received.  We can not think of a better home for Bogey.  He was meant to be with you.  Our thoughts are with you both at this difficult time.
 
BOGEY WE MISS YOU!
Bogey and Craig recently competed for Canada at the FCIS World Agility Championships in Belgium!  Not only was Bogey part of the Canadian team that placed in the top three countries in the world, but he personally placed 15th overall!

Craig had never owned a dog before Bogey.  He researched several breeders and finally
found HiQ Borders.   By the time he had completed
all this research, most of the current litter was spoken for. 
When he called there was only one puppy still available.
Off we went to see them.  There were 3
babies to look at but we had third pick!  We
named them A, B, & C and left that day with thoughts of who was who
and maybe if we were lucky, we would end up with B, and we did! My
husband, Craig, used to spend alot of time on the golf course, so we named
our B puppy Bogey. Craig had no idea how much his life would
change..... 

Bogey loves agility and is now competing in the US, Canada and internationally!
I am so proud of how much they have accomplished and I
know it is because he comes from such great lines. Fergus and Zed are
Bogey's brother, and Zephyr is from the same breeding but a different
litter. Dawn's Tribble is also a litter-mate of Bogey! These dogs ROCK!!

Bogey and Craig came 5th in the Cynosport World Games held in
Phoenix in November.

Bogey was also the 2008 Ontario Regional Steeplechase Champion

Bogey placed third overall at the 2009 AAC Ontario Regional Championships 


Bogey and Craig go to Belgium!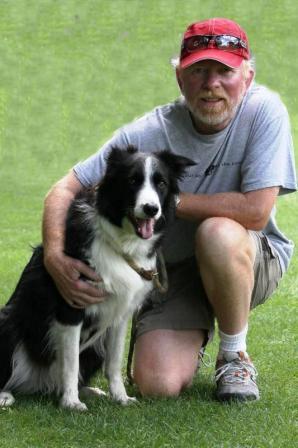 BOGEY AND CRAIG AT THE CANADA CUP